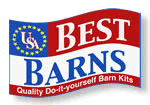 Faster Storage Shed Delivery in New York, New Jersey, Pennsylvania and other North East States with Arrow, Best Barns and DuraMax Sheds!


Live in the upper North East part of the country and looking for a faster delivery option on your new storage building? Look no further, we have you covered! We have 3 warehouses we use in your area for our sheds! We ship our Arrow metal sheds and DuraMax vinyl sheds from warehouses located in New Jersey. These are great options for anyone in New Jersey or New York to get your new building quick! Our Best Barns brand wood sheds ship from our warehouse in Pennsylvania. If you are in the market for a new wood storage shed and need it quickly on the North East Coast these are two great options for you. Not all of our shed brands ship from this area. Choose the sheds we have available there and get it even faster!

For the fastest delivery in the Northern East Coast, namely New York, New Jersey and Pennsylvania, choose one of our Arrow, Best Barns or DuraMax or sheds. Our Arrow metal buildings ship from Middletown, New Jersey. The DuraMax vinyl brand sheds ship from Somerset, New Jersey to service our East Coast customers. Our Best Barns wood buildings ship factory direct from Greenville, Pennsylvania in the amish country.

Please contact us for specific shipping estimates. Most of our sheds arrive at your home in just 5-10 business days after ordering.


Please find below the sweet spot states for faster delivery on these brands below!